WE HAVE RESOLVED THE ISSUE OF SMALL HOLE DRILLING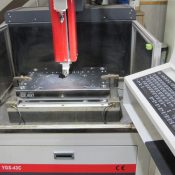 Geneng has taken delivery of a new CNC EDM hole drilling machine.
This machine will take the stress out of drilling small holes.
We regularly have to drill multiple holes, as small as 0.5mm diameter through stainless steel die plates, so with the CNC table movements we can be sure the holes are exactly where they should be.